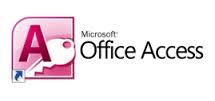 Advance Software is a specialist when it comes to Microsoft Access. We have been developing Access databases since Version 1.0 was released in the early 1990s. We are Microsoft Certified Professionals and can offer you the best advice and service when it comes to your database needs. In particular, we are able to provide the following services:

- Business analysis
- Database design
- Development to your/our specifications
- Front-end development to separate back-end systems (eg. Sql Server, Oracle, etc)
- Enhancements to existing databases
- Support of new or existing databases
- Integration of database with existing systems
- Transfer of data from legacy systems
- In-house contact services
- Training, etc.